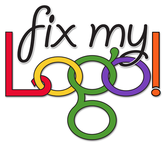 Fix My Logo!
While designing projects for both print and web, many clients do not have access to a high-resolution logo for print and/or web.
If you have an idea for your logo and need support with professional production for both print and web, please attach a photo or scan of your logo with your email to
fixmylogo@yahoo.com
.
If you would like support with your logo, contact:
Fix My Logo!
to discuss cost / your budget and payment.
---
---
Your LOGO will be provided as a
"Vector"
Graphic (Adobe Illustrator ".ai") as well as several formats for both print and web.
For Print: .tif | .eps | .jpg | .pdf |
300 dpi | cmyk (High resolution)
For Web:
.jpg
72 dpi | rgb (Low resolution)
Note:
.
pngs
will have transparent backgrounds.
Contact:
fixmylogo@yahoo.com
---